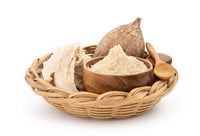 Health Benefits of Pueraria Mirifica
The emerging Pueraria Mirifica plant, also called the White KwaoKrua, is a natural female hormone supplement imported from Myanmar and Northeastern Thailand. Here are some health benefits of this vital ingredient you shouldn't overlook:
Women are prone to osteoporosis during the post-menopausal period; the Pueraria Mirifica plant can improve skeletal health.
Research shows that women who take the plant supplements have reduced night sweats and hot flashes during menopause in just a week.
It contains flavonoids and miroestrol that can fight aging symptoms.
Studies show that 70% of women using Pueraria Mirifica experience breast size enhancement and reduced stretch marks.
Improves skin, collagen production, and skin hydration.
Improves libido, sex drive, and vaginal moisture.
Try Now
Code Curves Enhancement and Enlargement Serum
Breast Enhancement1
Anti-Aging
Libido
Penis Enlargement
Code Curves Is Your #1 Natural Option for Curve Enlargement
Code Curves incorporate high-quality and all-natural ingredients in their enlargement serum.
Benefits of Using Our High-Quality, Organic Enhancement Serum
Our best-in-class enlargement serum can be used on any curves you want to enhance:
Breast Enlargement
Buttocks Enlargement
Penis Enlargement
Olivia Stark
I was able to go up an entire cup size because of Code Curves, and so quickly! My body has never looked better! Thank you.
Matt Smith
All those penis enlargement pills always scared me, so I was so happy to find a natural option. Even more when it worked!
Jennings
Damn, the results were so quick. I had to buy new jeans to show off my new curves. Thanks Code Curves!